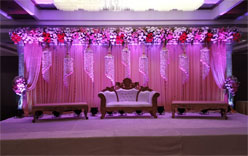 Work Date: 24 Nov 2019
Location : Ramada Hotel, Reception
Dear Nitinbhai & his team,
Have outdone themselves! He ensured that not only the reception but a family function of Grah Shanti was par excellence! Forever grateful to Nitin Bhai & his team!!
Regards,
Devand Gandhi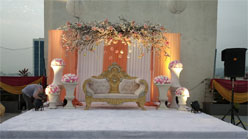 Work Date: 23 Nov 2019
Location : Sky Terrace
Dear Nitin,
Good Day
It was really wonderful decoration done by you & your staff, good support by you & your son for the event. Appreciated by all.
Regards,
Capt. B.P.Singh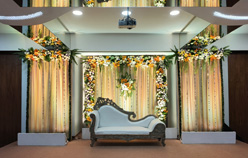 Work Date: 10 Nov 2019
Location : Grand Hall - Acres Club
Dear Nitinnbhai,
I sincerely appreciate your promptness in helping us in arrangement of our function. You have given all demonstration of would be decorations which suits for the function. You and your team has given full cooperation and were prompt throughout the function. It was a nice decoration of flowers which all our guests liked it.
Thanks for your cooperation and prompt services.
Sincere Regards,
Adv. Sanjiv Sawant and Dr. Neena Sawant
Dear Nitinnbhai,
Dear Nitin ji Thankyou so much for the gorgeous decor that your team did for my son's christening party at the acres club grand hall. Everything right from the stage, the center table, the chairs and the entrance was done beutifully..
The efforts made was appreciated by all.
Regards,
Meria S.

Work Date: 17 Aug 2019
Location : Acres Club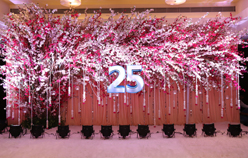 Work Date: 14 Jul 2019
Location : The Park Hotel, Belapur
Dear Nitinnbhai,
Thank you NItinbhai for everything. It was a pleasure interacting with you. Did not feel you are doing business with us. You genuinely care for your customers which is a very rare thing…
so thank you once again
Regards,
Mrs./Mr. Viji & Suresh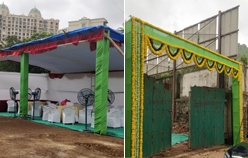 Work Date: 15th, 16th July 2019
Location : Mulund
Dear Nitinnbhai,
A big thanks for the set ups done on Mulund site for the Puja yesterday & today.
The arrangements done were great & the events on both the days went well.
A Big thanks again!
Regards,
Rohan Uchil
Vice President (Projects)
Apurva Natwar Parikh Group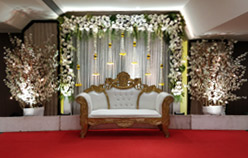 Work Date: 7th July 2019
Dear Nitinnbhai,
Thank you very much for the lovely decoration not only bride and groom but all r family and relatives loved the decor.
A very humble and patient gentleman. Each and every guest of ours was all praise for the way the decorated the entrance and hall. He had personally seen to all the details and helped us with everything under one roof.
Regards,
Mrs. Chandrashekar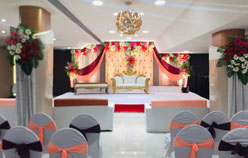 Work Date: 10th June 2019
Location : Crystal - Acres Club
Dear Nitin Uncle,
Thank you for making my wedding so perfect. Everything was exactly as I had thought infact better. I've to not worry a bit. You guys managed everything so well. Everybody appreciated the work including the Dilliwale. Keep up the good work.
Regards,
Shivangi Singh
Email: shivangi27.singh@gmail.com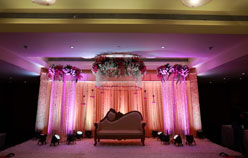 Work Date: 20th April 2019
Dear Mr. Nitinnbhai,
Greetings for the day!!!
We want you to know that we are very pleased with the quality of services your company "Ark Wedding Décor Events" has provided during my son's wedding reception on 20th April 2019 at Park Hotel.
Our several guest have commented on how nice designed stage was made with beautiful original flowers. Your idea of putting Photo booth was liked by many; I belief 100 % of our guest have photo shoot there.
We are definitely going to recommend your company to others because of our satisfaction with your service.
Thank you for your excellent service.
Best Regards,
M. K. Das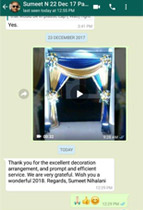 Dear Nitinnbhai,
Thank you for the excellent decoration arrangement, and prompt and efficient service. We are very grateful. Wish you a wonderful 2018.
Best Regards,
Sumeet Nihalani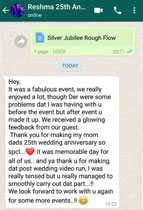 Dear Nitinnbhai,
It was a fabulous event, we really enjoyed a lot, through Der were some problems dat I was having with u before the event but after the event u made it up. We received a glowing feedback from our guest.
Thank you for making my mom dads 25th wedding anniversary so special… It was memorable day for all of us.. and ya thank u for making dat post wedding video run, I was really tensed but u really managed to smoothly carry out dat part…!!
We look forward to work with u again for some more events..!!
Best Regards,
Reshma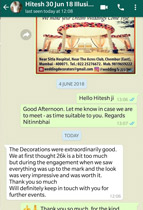 Dear Nitinnbhai,
The Decorations were extraordinarily Good. During the Engagement when we saw everything was up to the mark and the look was very impressive and was worth it.
Thank You So much.
Will definitely keep in touch with you for further events.
Best Regards,
Hitesh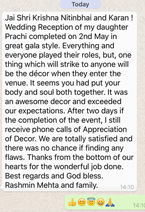 Jai Shri Krishna Nithinbhai and karan!
Wedding Reception of my daughter Prachi completed on 2nd May in great gala style. Everthing and everyone played their roles, but, one thing which will strike to anyone is decor when they enter the venue. It seems you had put your body and soul together. It was an awesome decor and exceeded our expectaions. After two days of the completion of the event, I still receive phone calls of Appreciation of Decor. We are totally satisfied and there was no chance of finding any flaws.
Thanks from the bottom of our hearts for the wonderful job done.
Best Regards and God Bless
Rashmin Mehta and family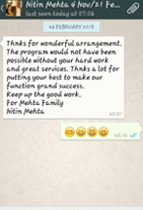 Dear Nitinnbhai,
Thanks for wonderful arrangement. The program would not have been possible without your hard work and great services.
Thanks a lot for putting your best to make our function grand success.
Keep up the good work. For Mehta family.
Thank you
Nitin Mehta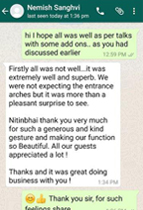 Dear Nitinnbhai,
Firstly all was not well... it was extremely well and superb. We were not expecting the entrance arches but it was more than a pleasant surprise to see.
Nithinbhai thank you very much for for such a generous and kind gesture and making our function so Beautiful.
All our guests appreciated a lot!
Thanks and it was great doing business with you!
Thank you
Nemish Sanghvi
Dear Nitinnbhai,

Jai Shree Krishna
Finally We are free with all the wedding rush hours & other rituals after wedding with the couple, along with family members. It will not be good on my part to share my thoughts & gratitude – to Thank you for the excellent support guidance for the wedding arrangements at The Acres Club Front Lawns as well as Garden (22 April 2015).
Some of the main points.
For taking time out to have 4 meetings with me & our in laws, to explain the wedding arrangements - for us, before making the payment at the Acres Club.

On finalizing the timings of vidhi, lunch & dinner arrangements, your suggestion to book Garden Area along - was a super hit Idea.
We loved the arrangements made for family Rest, Lunch & Late night Vidhi Mandap, at Gardens & with no doubts it was best Décor arrangements with support for the Couple Book Entry in the Lawns.Our Community Seniors, are not much aware of Acres Club Lawns Facility w/such Décor Arrangements, Caterers in Panel & Fern Hotel Rooms, All Enjoyed & would recommend for future weddings.

As for the food By Gala Caterers, which was suggested by you & were present in all meetings till the finalization of the Account.We equally are very much satisfied with Atulbhai Gala & his team for lovely support &Food Served, at the Lawns & Bungalow .Please convey personally thanks also to your staff ARJUN & TANAJI with their support team – who were on the toes in Acres both places for anything asked by us or my in laws.Nitinbhai as we did talked on the wedding Day, with our guest attendance – Club is going to have increase in Marwadi Wedding queries,as still many are not aware with the 2 lawns facility & Rooms Support you give us at FERN HOTEL.
Thanking you
Your's Truly
Milapbhai Bohra

Dear Nitinbhai,

Thank you for the wonderful arrangement.The program would not have been possible without your hard work and great services.Thanks a lot for putting your best to make our function grand success.Keep up the good work.
For Mehta Family
Thank you
Nitin Mehta

Hello Uncle,

Thank you so much for wonderful decoration on 27th at emerald.It was perfect, everybody just loved it. Thank you so much for all your efforts and co-operation.
Thank you
Shruti Mehta

Dear Nitinbhai,

My husband Ryan and I would like to take this opportunity to deeply thank "perfect decorators" for your beautiful decoration work and the cooperation you provided us with.Due to unavoidable situation we had to postpone our function twice and everytime you and your team supported us without a fuss.We are so grateful. Apart from being perfect as the name suggests you'll are also very particular about time.On a whole superb arrangements..Keep it up!!

We sincerely thank you for all the cooperation and efforts you put in to make this event a happy one.We look forward to work with you again.
Thank you
Shruti Rosario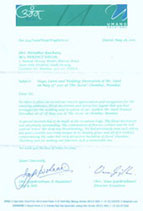 Dear Sir,

We have to place on record our sincere appreciation and recognition for the amazing ambience, floral decoration and attractive layout you had arranged for the wedding and reception of our nephew Mr. Sanil Pramod Shirodkar on 15th May, 2011 at 'The Acres' - Chembur, Mumbai.

A special mention has to be made of the reception stage. The floral decoration was absolutely outstanding. The combination of flowers, colours and the tall central 'Sehra' like drop was breathtaking. We had previously seen such sehras, but your creation was truly unique in its beauty, grace and all of it without compromising the sober but very attractive backdrop of floral 'Zhumkas'

Thanking you for making our function such a memorable one.

We wish you the best of times to come.
Yours Sincerely
Mr. Gopikrishnan A Mudaliar
CEO & MD
Mrs. Uma Gopikrishnan
Director(Creative)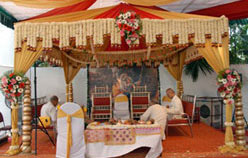 Thank you Nitinnbhai,

that was lovely! I have received the images from our Photographer, and he has also taken some beautiful shots of your work have shared some of these in the attachment.
Nitinnbhai, I would like to convey my sincere thanks and appreciation for your support in my wedding not only do I give you and your team full credit for making the venue absolutely beautiful, I would also like to convey my special thanks to you for personally facilitating so many other wedding-related tasks.
From the very first time that I established contact with you, you were able to get so many things done for me from securing the venue itself, to providing Vinitbhai's contacts, getting the Tangerine hall, even giving us Jineshbhai's contacts all this would have been so much more difficult without your assistance and proactive suggestions on how to do things, and whom to contact. I can truly say, as a bride who was doing most of her own wedding planning, it was a massive relief that I had found someone who I could rely on, and who I knew would have all the answers to my questions! :)
As for the decor itself, I must share with you the feedback that I received from our friends and families: everyone was unanimous in saying that the venue looked amazing and they all felt that they have never seen such a grand setup! I got the maximum feedback from people who loved the 'pichhvai' of Radha-Krishna in the Vidhi Mandap and also the enchanting mirror ladis in the reception stage so thank you for incorporating my requests!
Nitinnbhai God bless you for doing a stellar job and making my dream wedding come true! I do realise it wasn't easy working with a perfectionist like me, but hats off to you and your team for delivering beyond the perfection that I sought!
I hope to be in touch with you, and perhaps use your services for other family functions again someday until then, I congratulate you on your excellent work, and wish you continued success and prosperity!
Best Regards,
Dhwani Ashar-Shah
Dubai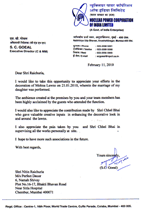 Dear Shri Raichuria

I would like to take this opportunity to appreciate your efforts in the decoration of Mohna Lawns on 21.01.2010, wherein the marriage of my daughter was performed.
The ambience created at the premises by you and your team members has been highly acclaimed by the guests who attended the function.
I would also like to appreciate the contribution made by Shri Chhel Bhai who gave valuable creative inputs in enhancing the decorative look in and around the lawns.
I also appreciate the pain taken by you and Shri Chhel Bhai in supervising all the works personally at site.
I hope to have more such associations in the future.
With best regards
S.C.GOEAL
Executive Director (C & MM)
Hi team,

While we always remember to point out and complain when things go not according to plan, its equally nice to compliment people who make things work well. We had a wedding reception at Acres (Grand Banquet Hall and Terrace) on 11 Dec 2009 and it was a nice experience and I should compliment the entire staff at the club for a great job done to ensure everything went smoothly as desired.
Among the team you had, a few people deserve a special mention without which the function would not be half as good....
The wedding decorators team of Nitinn bhai (Perfect decors) was excellent and I would say I was pleasantly surprised at the finesse in their work. While I always used to wonder how good can the photos be translated into the promised output, I must say the team did a fantastic job in creating the stage and other decorations which they did and the final output did exceed our expectations.
Charlie and his entire catering team were absolutely great and were always there when someone was required. Thank you team for the wonderful hospitality and really nice food which has come in for nice reviews from a lot of people who attended.
And as I end, special thanks to Pooja from the banquets team for her wonderful support all through the days leading up the event. She has been really helpful and at a lot of times had gone out of her way to ensure we felt comfortable.
Thanks again and would definitely love to consider the venue for any other occasion that comes our way....
Regards,
J John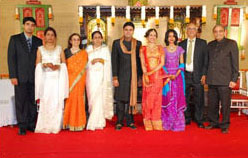 Dear Nitinnbhai, Hello,

Our wedding on 30th Dec 2007 - at Powai, was wonderful and this had everything to do with the PERFECT DECOR team and the caterer. Their decorations were extremely creative, the food tasted absolutely excellent and they were 100% successful in translating our ideas into exactly the sort of ambience we wanted for our wedding reception.
Many thanks to their entire team and particularly for their patience with us as we had to give our inputs for the event organization from overseas. In brief, all our dreams came true. You people do make our dream weddings come true...
With thanks from Asmita & Lawrence.
Dr.Mrs.Anupama Deshpande
Principal, Atharva College of Engineering,
Malad-Marve Rd., Charkop Naka,
Malad (w), Mumbai 400095.
Phone no: - 022-28644100 / 5100
Email: mangala_d_2000@yahoo.com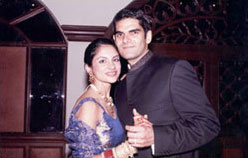 Dear Nitinbhai,

"Thank you for making our wedding such a memorable event for us and our families. The decorations looked beautiful, We couldn't have asked for anything more. Even the hotel staff (who have seen other wedding decorations at their hotel) said that they haven't seen anything like what they saw at our wedding. Ofcourse our families were thrilled too. I am happy you felt comfortable and got a good response from everyone."
Mehendi Sangeet & Wedding at Taj Exotica, Goa, INDIA.
Alka / Nikhil Thukral
New York 10022 USA
nik_alka@yahoo.co.in